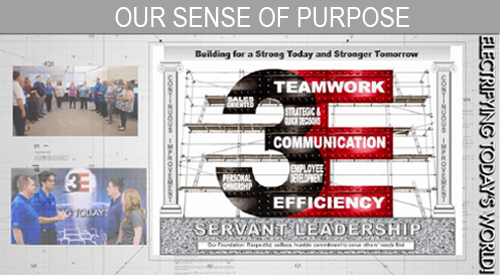 Our foundation is built on Servant Leadership: respectful, selfless, humble commitment to serve others' needs first. Our foundation is reinforced with Core Values and Strategic Building Blocks. This type of model challenges us to be Building for a Strong Today and Stronger Tomorrow.
CORE VALUES
TEAMWORK
One 3E Supporting each others' individual and department goals while achieving a common mission.
COMMUNICATION
Exchange of information and sharing of ideas through all levels and departments of 3E. Answering the Why questions to help others understand, support and perpetuate communication.
EFFICIENCY
Being a good steward of resources. Achieving maximum results with our investments.
STRATEGIC BUILDING BLOCKS
SALES ORIENTED
Striving to achieve total customer satisfaction through superior service, top value and high quality.
STRATEGIC & QUICK DECISIONS
Prioritizing our resources and investment dollars along with using S.W.O.T. analytics to select projects, set achievable and measurable goals, and report progress to team. Accomplish mission.
EMPLOYEE DEVELOPMENT
Committed to be the best place for the best people to spend their career. Dedicated to providing opportunity for all to reach their maximum potential both personally and professionally.
PERSONAL OWNERSHIP
Empowered, creative employees taking personal responsibility for our own attitudes, actions and results. Confident filtered through company vision are supported by leadership.
CONTINUOUS IMPROVEMENT
The constant process and culture of incremental change, motivated around "Building for a Strong Today and Stronger Tomorrow" with emphasis on creating a healthy and safe workplace for all associates.