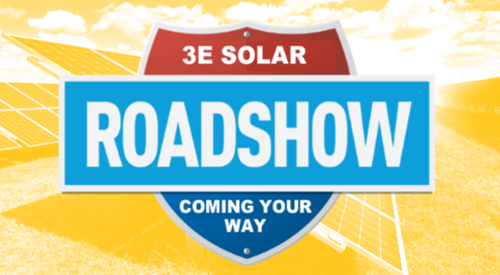 3E's Solar Representatives will be presenting about the benefits of solar energy and how 3E can help guide both contractors and end-users to make the best investment for their application. Visit a 3E location near you during the roadshow to learn more about solar energy and how you can take advantage of this alternative energy!
The 3E Solar Roadshow is coming to a 3E location near you! Each location will host the Solar Roadshow from 11am-1pm with lunch provided!
March 24

th

Burlington, IA

March 25

th

Cedar Rapids, IA

March 26

th

Iowa City, IA

April 14

th

Norfolk, NE

April 15

th

Lexington, NE

April 16

th

North Platte, NE

April 17th Sioux City, IA
Solar energy is first and foremost an investment. Among all the benefits of solar, the most important thing is that solar energy is truly a renewable energy source. Advantages of solar include: reduction of energy bills, diversity of applications, low maintenance costs, tax & local incentives, secure investment, and savings starting day one.